6 Steps You Need to Do Before Starting a Home Renovation
If you've been living in your home for a while, it's probably time for a renovation. According to Kowalske Kitchen & Bath, outdated décor and a lack of storage are two of the most common reasons why homeowners decide to renovate. They would know! Kowalske Kitchen & Bath has been in the design and construction business for more than three decades and are known for their stunning home transformations.
Photo Credit: Kowalske Kitchen & Bath
We talked to Christina Kolb, a designer at Kowalske, to get expert tips on how to start a home remodeling project. From hiring the right people to honing in on your vision, you'll learn what it takes to ensure you are creating the home of your dreams with these six steps:
1. Create an Inspiration Board 
You can't start any project without a little inspiration. There are plenty of places to look for ideas—magazines, Houzz, Pinterest, your travels, and even your neighbor's house. Save pictures of everything you like, from layouts to cabinetry, counters, lighting, and colors. The more information and ideas you have saved, the easier it is to communicate your style and likes to your designer.
2. Make a List of Your Needs 
Think about the main reason you are deciding to renovate your home. Is it because your kitchen was designed in the 70s and needs a makeover? Or maybe the layout no longer works with your growing family. Make a list of what you want the renovation to include. This means everything from storage to counter space, functionality, flow, style, and how you use the area.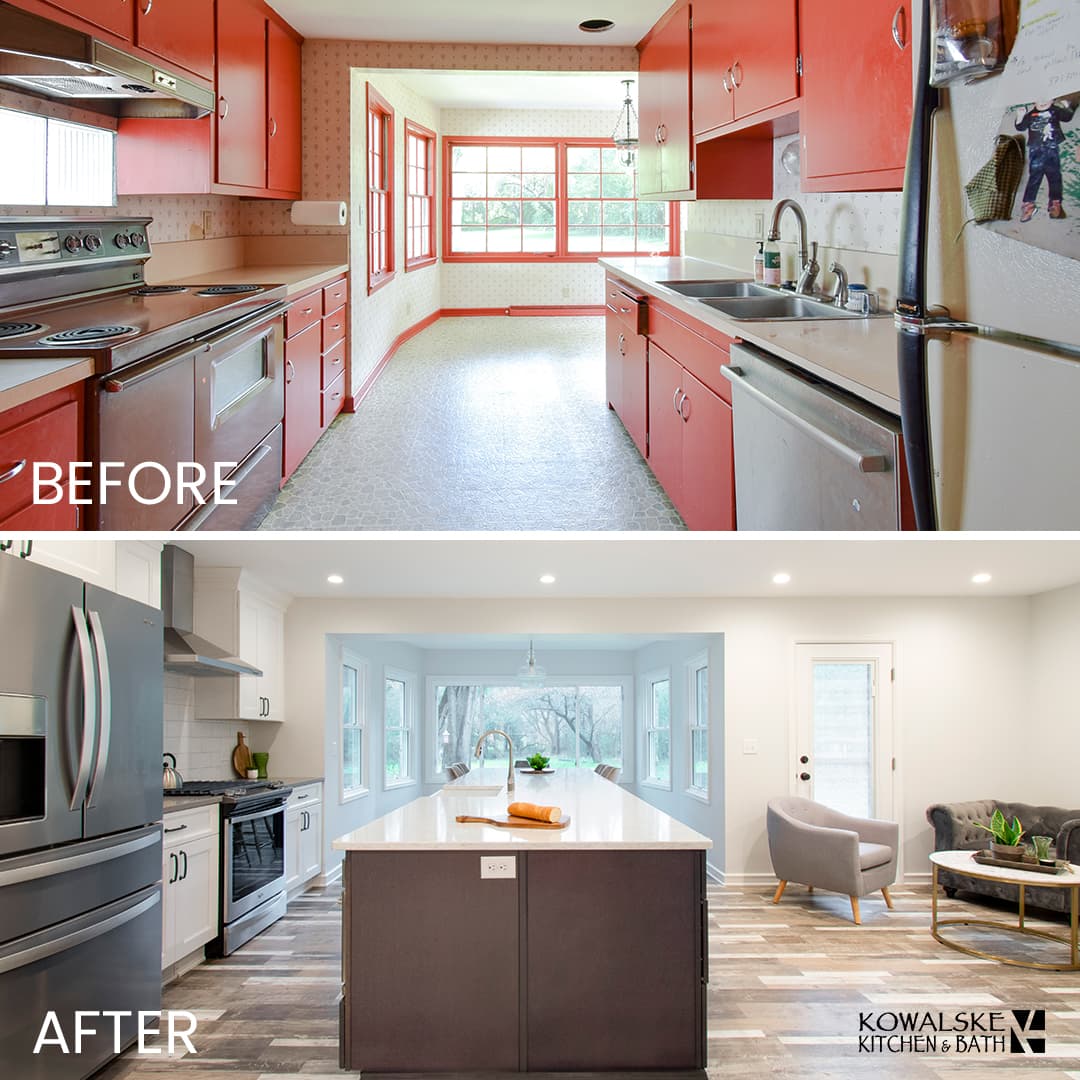 Photo Credit: Kowalske Kitchen & Bath
3. Determine a Realistic Budget 
Before beginning your project, you need to determine a realistic budget. Don't forget to include costs for design fees, materials (drywall, insulation, cabinets, counters, flooring, backsplash, fixtures, paint, trim, etc.), labor (electrician, plumber, HVAC, etc.), and other costs like permits, dumpsters, and contingencies, etc. If you don't go into the project with an attainable price range, things can quickly escalate and put you in a rough position down the line. 
To see what the average cost for common remodels are based on where you live, check out the 2020 Cost Versus Value Report. It can help you decide how much to invest in your project.
4. Research Remodeling Companies 
You research what you want your house to look like, but more importantly, you should research remodeling companies. If not, you could end up unsatisfied with the project. Ask friends for referrals, check Houzz, read Google reviews, look at your local NARI directory, and look at websites of local companies and view before/after photos of their work. Before hiring anyone, make sure you get a few different estimates. It's essential to shop around and pick someone that you trust.
Photo Credit: Kowalske Kitchen & Bath
5. Hire a Qualified Company
Don't base your decision on what company to hire on price alone. You should also consider the quality of work, how many employees they have to do the job, reviews, the timeline for work completed, communication plan, whether the contractor provides a detailed calendar, etc. Hiring a reputable design-build company for the project is one way to make sure everyone is on the same page from start to finish.
6. Plan for Construction
Make a plan for when the house is under construction. Pack up the room being remodeled and any adjacent rooms that might get dusty. You also need to determine what you'll do with the loss of that room. For example, if you're remodeling your kitchen, set up a temporary kitchen. Depending on how big the project is, you may want to move out if possible. And, you should always keep your pets and kids safe and out of the way.
Remodeling your home is not something you want to tackle on your own, so choosing the right partner is critical. Follow these tips, and you'll be well on your way to making your new home vision become a reality!
Photo Credit: Kowalske Kitchen & Bath
About Kowalske Kitchen & Bath__Kowalske Kitchen & Bath is a family-owned and operated design-build remodeling company with a showroom in Delafield, Wisconsin. The company started in the 1980s as a carpet and tile business in Milwaukee. Over the years, the business evolved and expanded into remodeling bathrooms, kitchens, basements, and whole houses. Today, Kowalske is a full-service, award-winning Design-Build-Remodel company that maintains a tradition of superior service, excellent value, and meticulous workmanship.
Visit their website to see more pictures of their work or follow them on Facebook, Instagram, and Houzz and be sure to check out Mannington's store locator to browse flooring for your new project!
Hello, how can we help you?