Your Guide to Cottage Core
Flooring
Design
Trends
Decorating
Have you ever wanted to escape the constant connectivity of modern life and find a little patch of calm away from all the noise and distractions? The coziness and simplicity of Cottage Core is more than just a design trend – it's a lifestyle option that eschews all the flash of modernity for a comfortable, rustic alternative. See for yourself how implementing a Cottage Core design in your home can change the way you see the world.
What is Cottage Core Design?
We can trace the roots of Cottage Core design aesthetics back to the Romantic Period of the 19th Century. Faced with constant the constant technological progress of the Industrial Revolution, many sought a return to a more rustic lifestyle living side-by-side with nature. Ironically, this philosophy of simplicity and self-reliance spread across the internet and social media to become an ideal lifestyle goal among Gen Z and Millennials experiencing burnout from constant technological saturation.
What Colors to Use in Cottage Core Design?
When building a space into a Cottage Core escape try seeking out colorful, bold, and romantic tones. Rich forest greens are highly characteristic choices for this aesthetic. Bright pastels make for a vivacious and lively home, while more robust reds add the warmth and coziness of the hearth.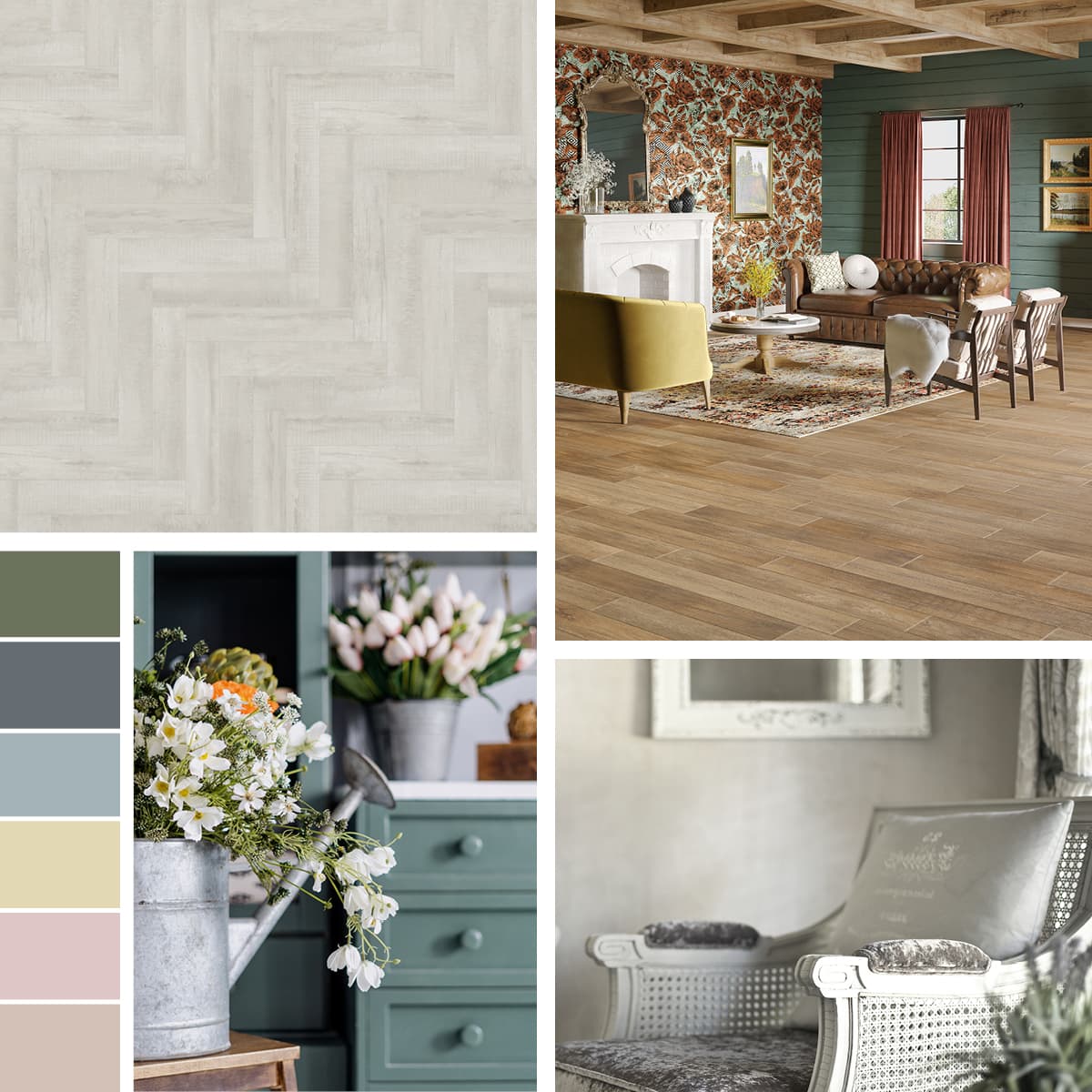 Flooring Details: 
Top left: Luxury Vinyl Sheet - Twill, Color: Wool 
Top right: ADURA®Max Vinyl Plank - Calico, Color: Lynx
Types of Flooring in Cottage Core Design
Try working with warm wood visuals or classic patterns to help develop the feel of a cozy hideaway or a rustic, pastoral farmhouse. 
Our ADURA® Calico vinyl plank is the perfect complement to the warmth and nostalgia of Cottage Core. The look of worn, weathered wood makes for a picturesque interior befitting a traditional, countryside retreat.
Nothing adds more beauty to a home than true, hand-crafted hardwood. Sanctuary features hand-applied staining and warmth of European White Oak to help bring the outdoors in.
For a laminate option, Revival, from our award-winning Restoration Collection®, provides naturally rustic visual of Hickory that strikes a balance between comfort and beauty.
If you're looking to incorporate a fun and classic pattern, consider Twill. This modern herringbone luxury vinyl sheet floor features a time weathered oak visual comprised of subtle saw marks, soft color variation, and remnants of wear providing a truly distinctive visual perfect for Cottage Core styled homes.
How to Accessorize Cottage Core Design
Cottage Core design is all about living in harmony with nature. To that end, blend the indoor space with the outdoors as much as possible through natural materials.

This style promotes the need for comfort and coziness. Accent pillows, throws and rugs are the perfect accents to literally and figuratively warm up a room.  

Plants and flowers are the perfect addition to this style – preferably living ones! Our leafy friends do more than just brighten up a room with color - they give a feeling of care and connection to the land that can be uplifting. Plus, they truly pull together this garden inspired trend. 

Fill the space as much as possible with what makes you happy – the only tonal consistency you should have to worry about is what brings you joy.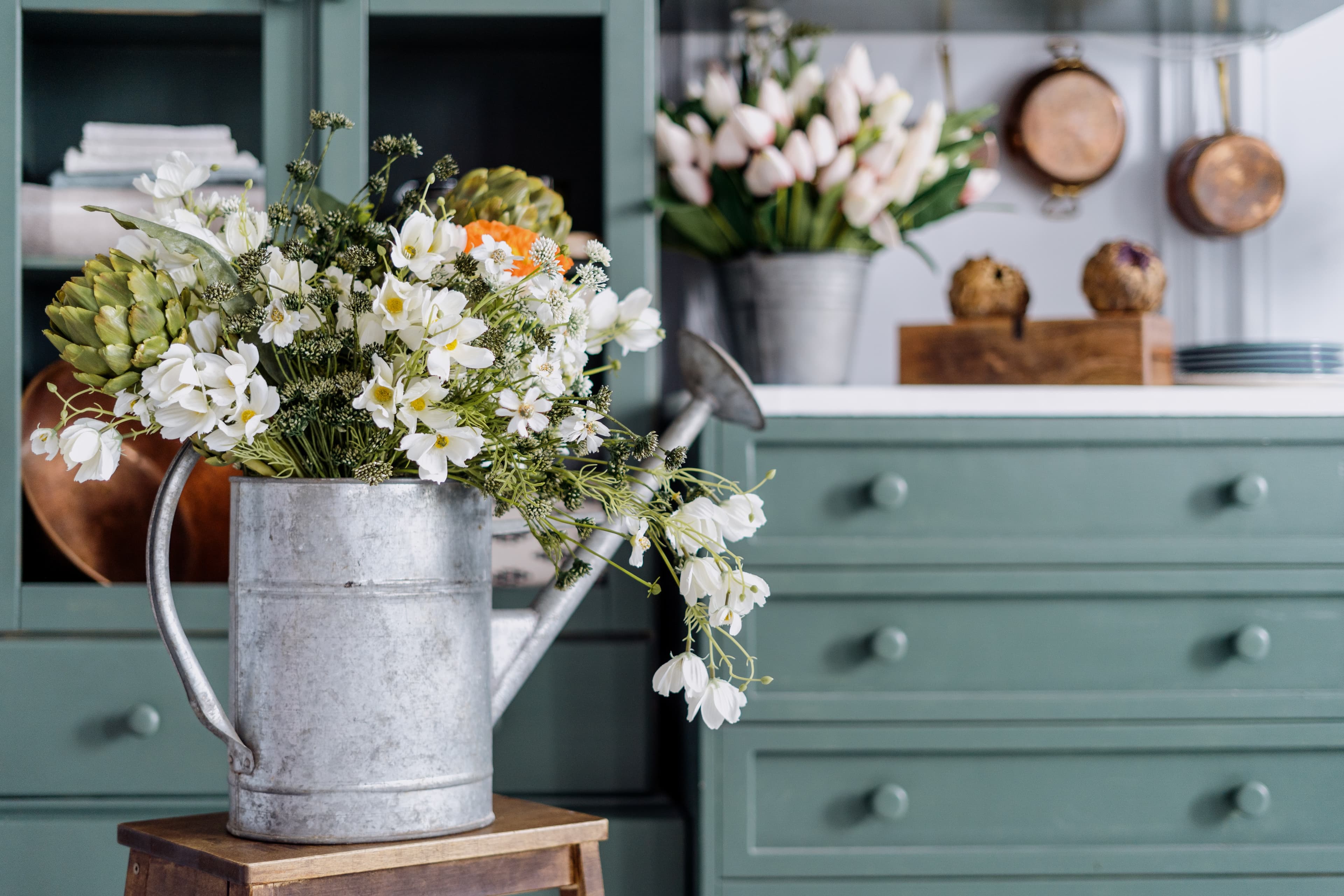 Style of Furniture in Cottage Core Design
For a Cottage Core aesthetic, seek out antique and secondhand furniture. Rocking chairs from a country store, a dresser from a thrift shop, an up-cycled Boho dinner table – continuing the cycle of use in furniture makes for a sustainable lifestyle. Above all else, find things that are comfortable and comforting because at the end of the day what matters most in Cottage Core is your connection to what brings you joy.
Finding a connection with nature, comfort, simplicity, and sustainability is part of what makes Cottage Core design so appealing. Start your search by finding a Mannington floor at your local Mannington retailer today to begin your journey.
Hello, how can we help you?