Your Guide to Mid Century Mindset
Flooring
Design
Trends
Decorating
Looking for a bold design look that matches form with function? With a vibe that evokes the attitude and stylishness of Mad Men, Mid Century Mindset brings out a clean, retro aesthetic that combines the manmade with the naturalistic. See what effect a Mid Century Mindset design can bring to your home.
What is Mid Century Mindset?
Mid Century Mindset or Mid-Century Modern design is an extension of the modernist design and German Bauhaus that emerged in America from the late 1940's through the 1960's. Its iconic look is characterized by neutral tones, clean lines and organic curves that are simple and functional. This retro visual style has been solidified in graphic design and pop culture by figures such as Andy Warhol, Stanley Kubrick and carried through the end of the Twentieth Century by the likes of David Lynch. 
What Colors to Use in Mid Century Mindset Design
The key factor at play with Mid Century Mindset colors are wood and earth tones against stark black and white. Pops of muted oranges, greens, and blues in furniture and décor create memorable statement pieces.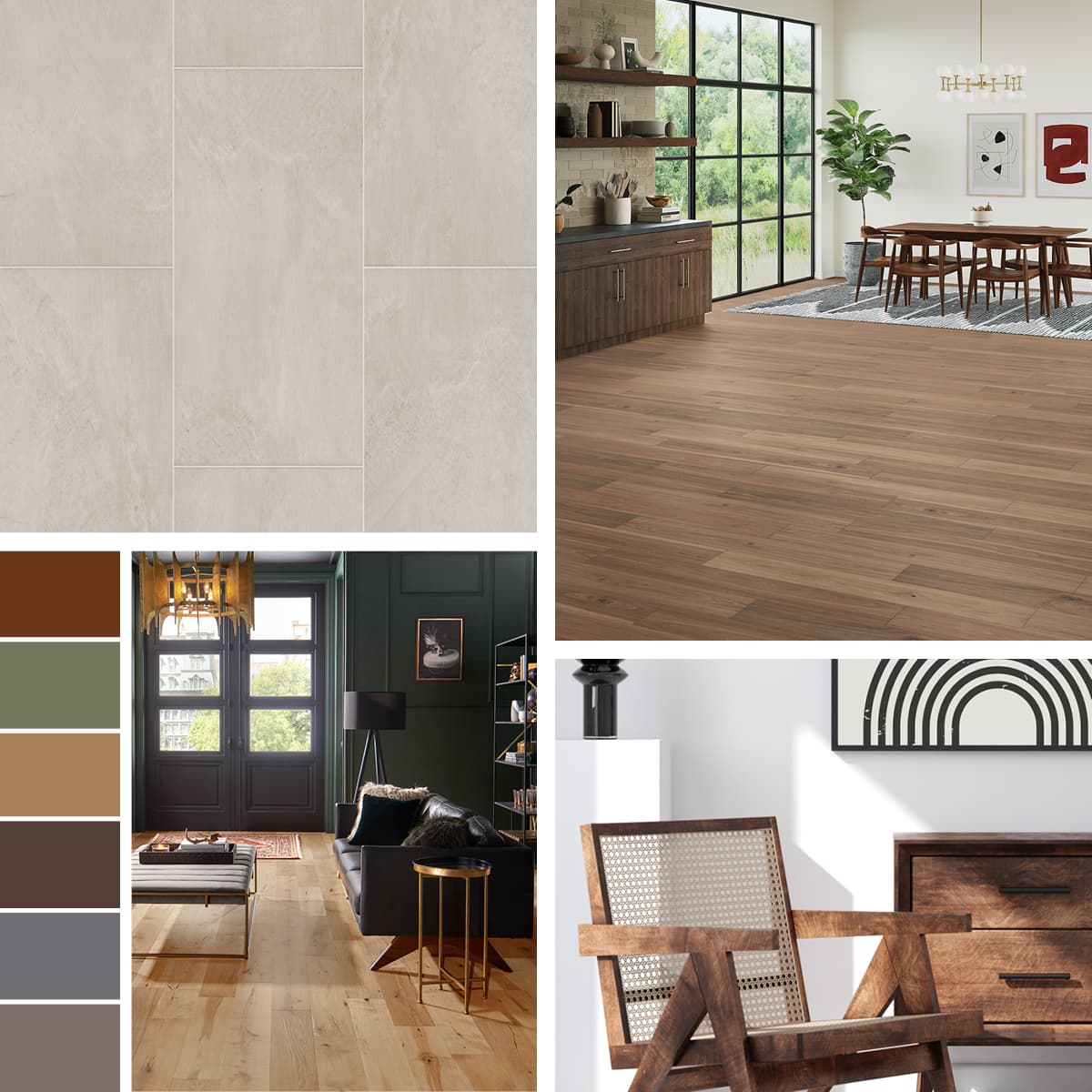 Flooring Details (clockwise from top left): 
Top left: ADURA®Max Vinyl Tile - Dune, Color: Sand
Top right: Restoration Collection® Laminate - Revival, Color: Terra
Bottom left: Hardwood - Triumph, Color: Raw
Types of Flooring in Mid Century Mindset
Try to focus on warm, natural wood or stone visuals when working with Mid Century Mindset designs. By blending this outdoor aesthetic with bold, clean lines you'll be able to capture more of the aesthetic that is a callback to that period of design
As a legacy luxury piece, hardwood is the perfect accompaniment to Mid Century Mindset design. Our Triumph and TimberPlus® hardwood floors carry the timeless appeal of Oak throughout any space.
For a laminate option, Revival, one of our stunning new Restoration Collection© floors, has the naturally rustic and strikingly handsome look of hickory visuals. It's an excellent choice to accentuate warmth in a room.
ADURA® Dune vinyl tile floors blend a brightness and warmth that helps bring the outdoors indoor for a nature inspired interior.
For a sophisticated blend of dark and light tones, ADURA® Regency Oak, one of our new vinyl plank patterns, elevates any interior with the modern elegance of White Oak.
How to Accessorize Mid Century Mindset
Find a balance of natural materials like glass and wood with manmade elements like vinyl and fiberglass. The characteristic appeal of this style accentuates the contrast between these visuals.

Find statement pieces to focus the décor around – by keeping things simple, a guest's eye will be drawn to focal points in the room with wow-factor.

Focus on clean lines throughout a space to emphasize functionality. Simplicity in furnishings is what make Mid Century Mindset designs striking and bold.

Minimalist designs that are mostly black and white allow iconic, muted colors to pop. Less is always more when it comes to this design style.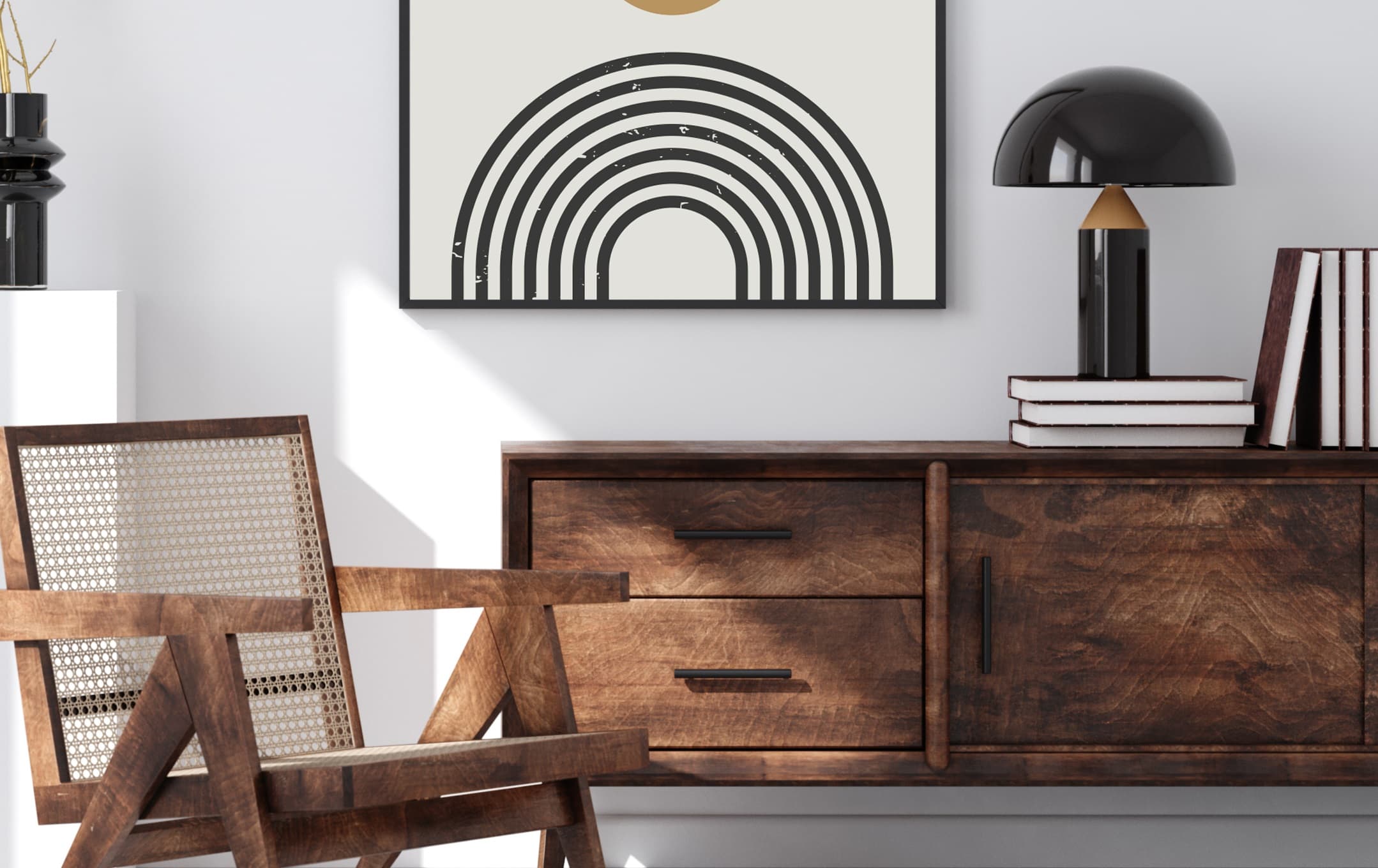 Style of Furniture in Mid Century Mindset
Vintage throwback furnishings help drive the characteristic aesthetic of Mid Century Mindset designs. Film and television have immortalized the look of low teak sofas or chairs and leather furniture with minimalist coffee tables for a stylish accent to living area. Clean, strong lines and organically curving furnishings in neutral colors or rich earth tones are the main things to consider when building out a space.
Simplicity is key when working with a Mid Century Mindset home. Look for a floor that embodies the functionality and elegance of this style at your local Mannington retailer today!
Hello, how can we help you?