Your Guide to Mediterranean Design
Flooring
Design
Trends
Decorating
Where rustic warmth and simplicity meets luxury is the timeless style of Mediterranean design. Much of the blending of comfort and exotic allure comes from an emphasis on natural materials and textures unique to a wide variety of cultures that share the sea and sun. Keep reading to learn more about this on-trend design for 2022 and how you can incorporate this style throughout your home.
What is Mediterranean Design?
Mediterranean design aesthetics emanate from coastal regions and are primarily influenced by Spain, Morocco, Italy, and Greece. But, while there are many stylistic similarities, each country has its own unique cultural identity which plays a major role in accents, colors, and materials. Ideal for warm climates, Mediterranean design emphasizes neutral tones, natural materials with rustic, unfinished textures, and a blend of indoor and outdoor living.
What Colors to Use in Mediterranean Design
Neutral colors set the base for Mediterranean design that bring out the richness of earthy tones like terracotta, blush, and ochre. Dusky reds and browns will bring out the warmth and contrast while subtle off-whites and light beiges help emphasize natural light.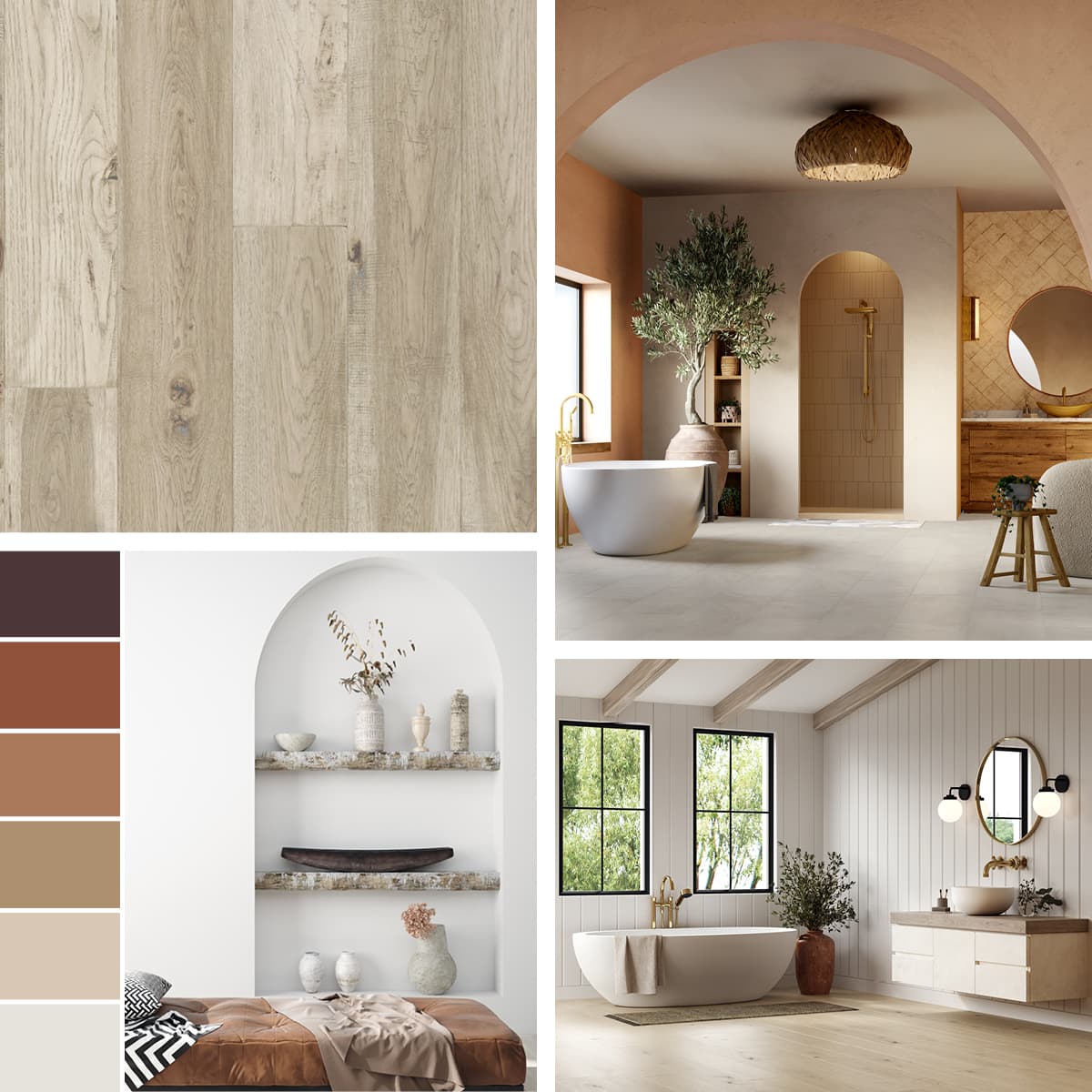 Flooring Details (clockwise from top left): 
Hardwood - Provence, Color Blanc 
ADURA®Max Vinyl Plank - Dune, Color:Sand
Hardwood - TimberPlus™, Color: Sand
Types of Flooring in Mediterranean Design
Natural stone visuals and hardwood flooring are a constant throughout Mediterranean design and choosing neutral tones throughout will keep the look cohesive and let textured decor and accents pop. 
Our ADURA® Dune vinyl plank flooring is the perfect complement to Mediterranean design. Inspired by natural limestone, it evokes a look popular throughout Southern Europe.
If you want to incorporate an eye-catching pattern, consider Twill, a modern herringbone luxury vinyl sheet pattern with a weathered oak visual which will instantly add interest and elevate your space.
The warmth and elegance of hardwood matches the timeless appeal Mediterranean designs and our Provence and TimberPlus™ hardwood flooring combines textural appeal with blends of color.
How to Accessorize Mediterranean Design
Start from a neutral base tone as the key. Much of the beauty found in Mediterranean design is in bright, simple whites and neutral tones throughout walls or floors with earth toned décor.

Featuring more raw and unfinished materials will provide the natural look and textures found in hand-crafted, artisanal design.  

A shared element common all throughout Mediterranean design is the blending of indoor and outdoor living. Keep the space open and emphasize natural light for a bright, airy feel.

Don't overdo it on accessories and décor. Minimalist living and clutter-free spaces are a core part of Mediterranean design.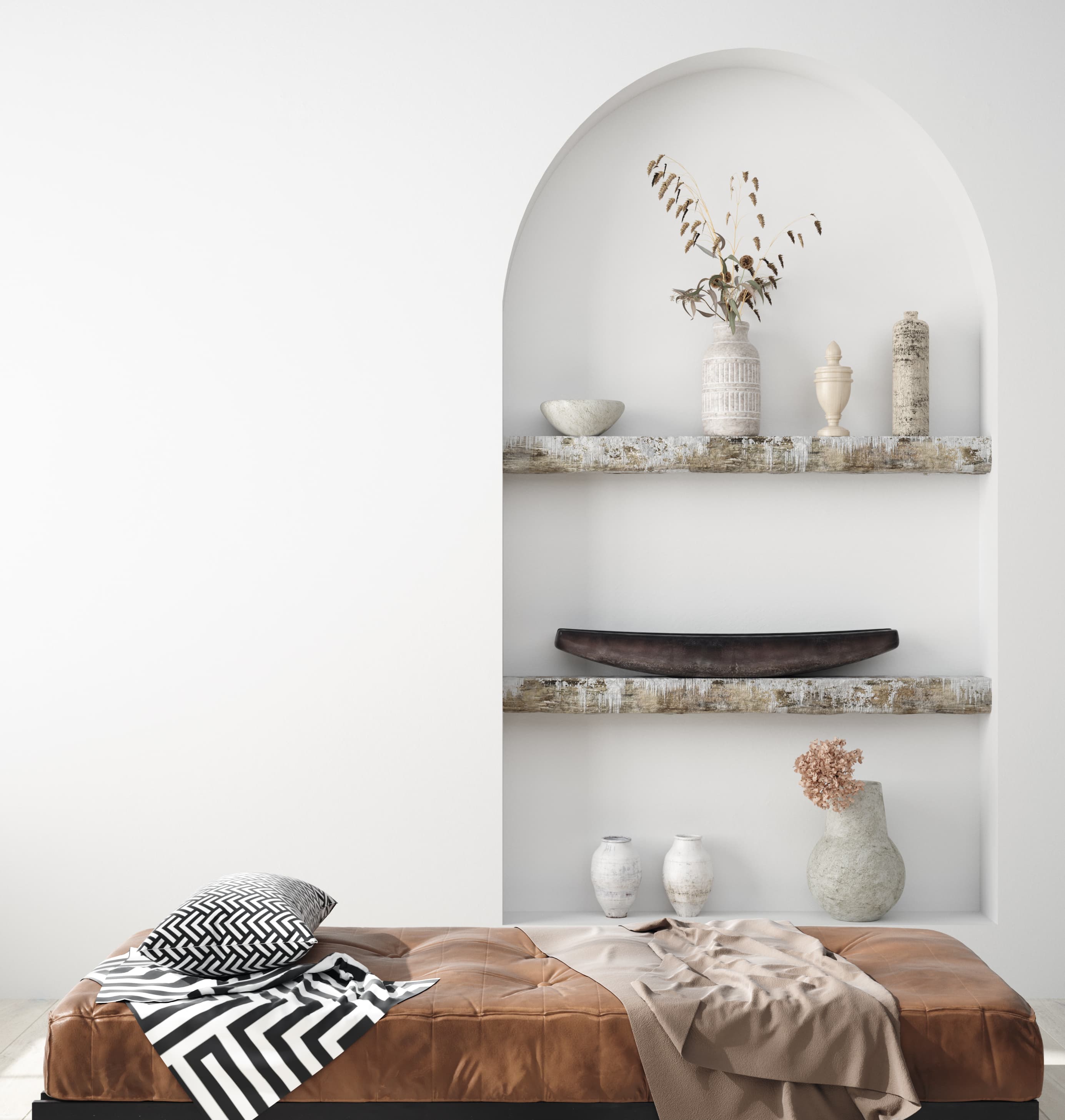 Style of Furniture in Mediterranean Design
Mediterranean furniture has a wide variety of options and textures. Materials found in nature with a hand-crafted touch like natural wood, rattan and stone drive the look of Mediterranean design and can be incorporated through accent chairs, coffee and side tables, couches and more. Try working with pieces that pair well across multiple rooms for cohesiveness of the rustic feel.
Brightness and warmth are the focus when working with Mediterranean design styles in your home. Start by finding a flooring style at a local Mannington retailer that lets you explore a wide variety of options for an adventurous, inviting home.
Hello, how can we help you?